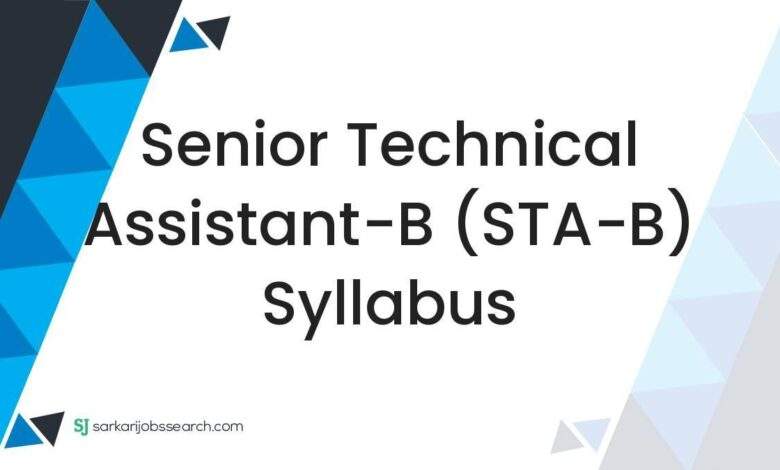 Senior Technical Assistant-B (STA-B) Syllabus
Exam Pattern: A) There will be no negative marking for wrong answer. B) The syllabus of the examinations will be commensurate to essential qualification required for the post. C) The medium for examination will be Hindi and English.
| Tier | Mode/ Type of Examination | Scope of Examination | No of Questions | Maximum Marks | Duration of Exam (Mins.) |
| --- | --- | --- | --- | --- | --- |
| I | CBT for Screening@ | Test common to all post-codes : Quantitative ability/ aptitude, General intelligence & Reasoning ability, General awareness, English language (basic knowledge), General science | 120 | 120 | 90 |
| II | CBT for Provisional Selection@@ | Test specific to subject of post-code | 100 | 100 | 90 |
@Screening Criteria: Tier-I exam is for screening. The minimum qualifying marks for Tier-I is 40% for UR/OBC candidate and 35% for SC/ST candidates. Candidates will be provisionally shortlisted based on Tier-I examination merit in a ratio of 1:8 (No. of vacancy: No. of shortlisted candidates) provided they secure the minimum qualifying marks in examination. However, this ratio may increase or decrease depending upon the organizational requirements. The last candidate securing equal marks in the bracket will also be included. These provisionally shortlisted candidates will be called for Tier-II examination.
@@ Provisional Selection Criteria: The provisional selection will be based on the order of merit obtained in Tier-II examination depending upon the post/category/sub-category of the candidate. The minimum qualifying marks for Tier-II is 40% for UR/OBC candidate and 35% for SC/ST candidates.