Dear Aspirants,
RRB released the detailed notification for the recruitment of 35,277 vacancies for Non-Technical Popular Categories (NTPC) i.e. Junior Clerk cum Typist, Accounts Clerk cum Typist, Junior Time Keeper, Trains Clerk, Commercial cum Ticket Clerk, Traffic Assistant, Goods Guard, Senior Commercial cum Ticket Clerk, Senior Clerk cum Typist, Junior Account Assistant cum Typist, Senior Time Keeper, Commercial Apprentice and Station Master in various Zonal Railways and Production Units of Indian Railways. The Vacancies have been revised to 35,208 deducting the number of DLW vacancies from RRB Allahabad zone.
Changes in Vacancies of RRB ALLAHABAD
In a notice released by the railways, there are some changes in the total number of vacancies for RRB ALLAHABAD. The DLW vacancies under RRB ALLAHABAD has been cancelled. A message was received by the candidates who opted for RRB Allahabad zone as shown below: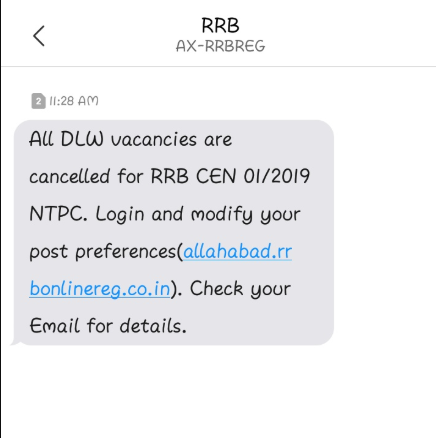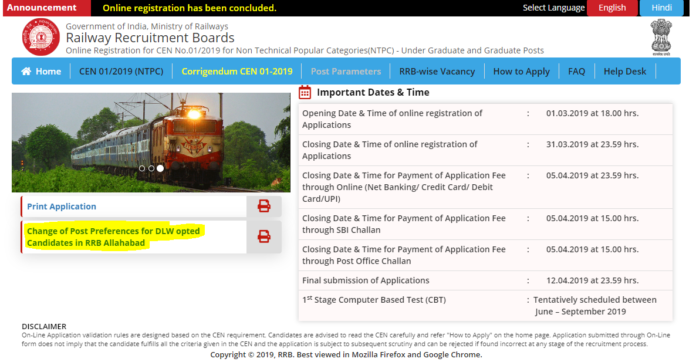 Candidates who opted for DLW vacancies as their preference are advised to visit the website and modify their post preferences. Candidates can change their order of priority of different posts from 15-04-2019 till 30-04-2019(16 hrs)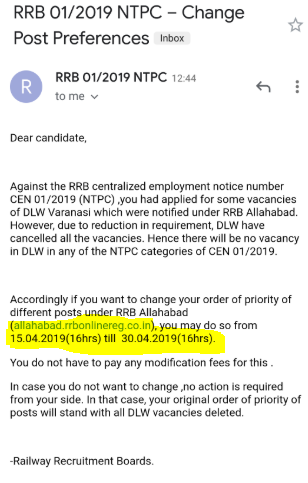 The DLW Vacancies that were listed previously is as shown in the below table. Hence, the overall vacancies for RRB Allahabad has been decreased from 4099 to 4030.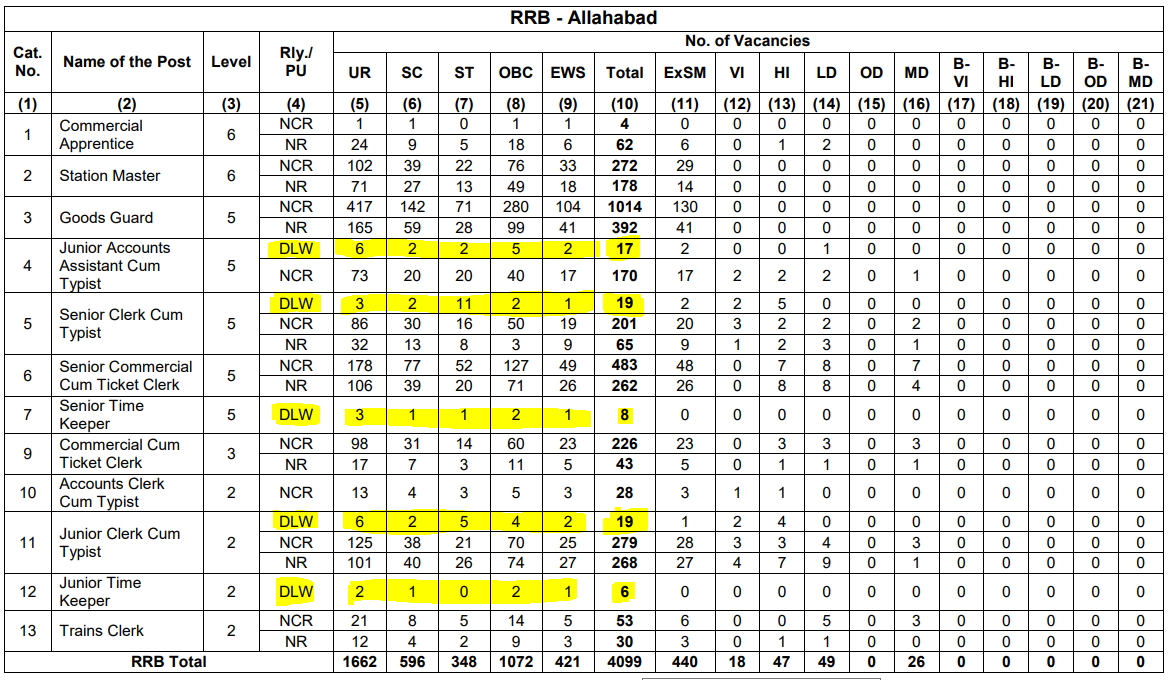 Click here to modify your post preference for RRB ALLAHABAD
The region wise number of vacancies for all regions:
| Name of RRBs | No. Of Vacancy |
| --- | --- |
| RRB NTPC Ahmedabad | 1024 |
| RRB NTPC Ajmer | 1773 |
| RRB NTPC Allahabad | 4030(UPDATED) |
| RRB NTPC Bangalore | 2470 |
| RRB NTPC Bhopal | 997 |
| RRB NTPC Bhubaneshwar | 498 |
| RRB NTPC Bilaspur | 1207 |
| RRB NTPC Chandigarh | 2483 |
| RRB NTPC Chennai | 2694 |
| RRB NTPC Gorakhpur | 1298 |
| RRB NTPC Guwahati | 851 |
| RRB NTPC Jammu-Srinagar | 898 |
| RRB NTPC Kolkata | 2949 |
| RRB NTPC Malda | 1043 |
| RRB NTPC Mumbai | 3665 |
| RRB NTPC Muzaffarpur | 329 |
| RRB NTPC Patna | 1039 |
| RRB NTPC Ranchi | 1386 |
| RRB NTPC Secunderabad | 3234 |
| RRB NTPC Siliguri | 443 |
| RRB NTPC Trivendrum | 897 |
| Total | 35208 |