Dear aspirants,
As you know the students are eagerly waiting for the final proceedings in the case of SSC CGL 2017 leaks. Supreme Court has released a notice on its official site in which 
SC has allowed SSC to declare the result of SSC CGL 2017 Tier 2 re-examination that was held on 9th March 2018.
The results of other dates of tier 2 exam are still on hold.
SC has further postponed the hearing to 6th May 2019.
SC also said that if SSC proves that the exams were not tainted, then SC will not hold the declaration of results.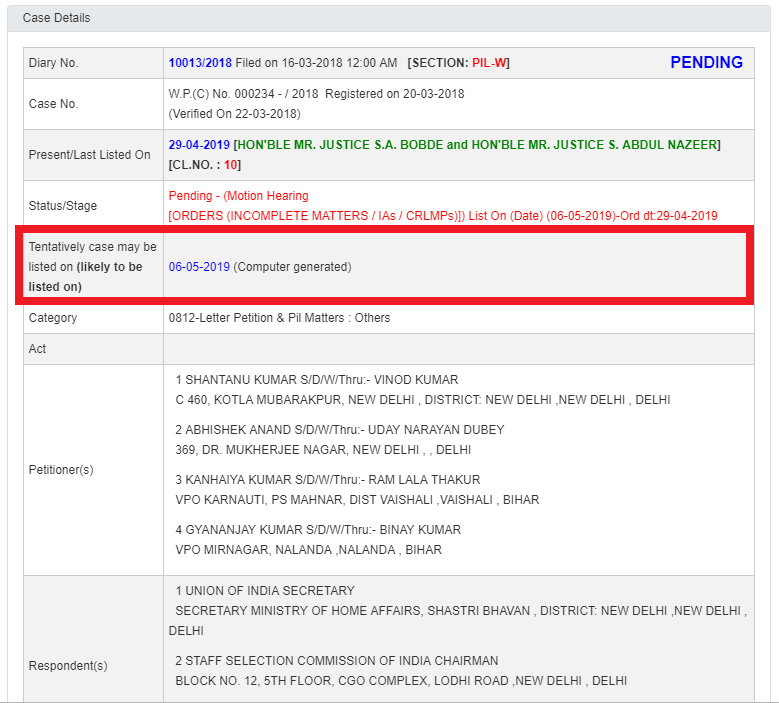 Earlier, the sources have already unraveled 
Supreme Court's stricture on cheating practices of #SSC exam results for 2017
 in which question papers were leaked for online mains exam conducted in February 2018. Supreme Court insisted on the hiatus of the further procession of SSC CGL 2017 Exam Result.
The Supreme Court had demanded opinion from the Central Government regarding the same and the decision is still pending until the last hearing takes place in Supreme Court itself. No further information has been released yet and aspirants are advised to wait until further notice.
And as per the latest information from sources, the current status unveils that the case will be listed on 6th May 2019 which was previously scheduled on 6th May 2019.
It is high time to shift all your focus on SSC CGL 2018-19 Preparation as dates of SSC CGL 2018 is out. Utilize this time to outshine in SSC CGL 2018 Examinations without baffling yourself in external trifle matters.