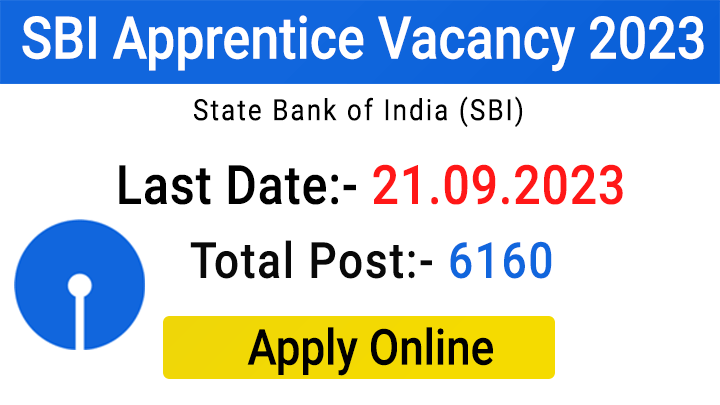 News:- SBI Apprentice Recruitment 2023 online application form shall be started from 01st September 2023 onwards.
News Date:- 31 August 2023
State Bank of India
Important Dates
Application Start Date: 01-09-2023
Application Last Date: 21-09-2023
Tentative Online Exam Date: October/ November 2023
Application Fee
General/ OBC/ EWS: Rs.300/-
SC/ ST/ PwBD: 0/-
Fee can be paid through online Debit Card, Credit Card and Internet Banking mode.
Age Limitation
Age as on: 01.08.2023
Minimum Age: 20 Years
Maximum Age: 28 Years
(For Age Relaxation See Notification.)
Eligibility Criteria For SBI Apprentice Recruitment 2023
Graduation from a recognized University/ Institute.
SBI Apprentice Vacancy 2023 Details
| State/ UT | Language | SC | ST | OBC | EWS | UR | Total |
| --- | --- | --- | --- | --- | --- | --- | --- |
| Gujarat | Gujarati | 20 | 43 | 78 | 29 | 121 | 291 |
| Andhra Pradesh | Telugu/ Urdu | 62 | 27 | 105 | 39 | 157 | 390 |
| Karnataka | Kannada | 28 | 12 | 47 | 17 | 71 | 175 |
| Chhattisgarh | Hindi | 11 | 31 | 5 | 9 | 43 | 99 |
| Madhya Pradesh | Hindi | 44 | 59 | 44 | 29 | 122 | 298 |
| Odisha | Odia | 32 | 45 | 24 | 20 | 84 | 205 |
| UT Ladakh | Ladakhi/ Urdu/ Bhoti | 0 | 1 | 2 | 1 | 6 | 10 |
| Himachal Pradesh | Hindi | 50 | 08 | 40 | 20 | 82 | 200 |
| UT Chandigarh | Hindi/ Punjabi | 4 | 0 | 6 | 2 | 13 | 25 |
| Punjab | Punjabi/ Hindi | 105 | 0 | 76 | 36 | 148 | 365 |
| UT jammu & Kashmir | Urdu/ Hindi | 8 | 11 | 27 | 10 | 44 | 100 |
| Haryana | Hindi/ Punjabi | 28 | 0 | 40 | 15 | 67 | 150 |
| UT Pondicherry | Tamil | 4 | 0 | 7 | 2 | 13 | 26 |
| Tamil Nadu | Tamil | 123 | 6 | 174 | 64 | 281 | 648 |
| Arunachal Pradesh | English | 0 | 9 | 0 | 2 | 9 | 20 |
| Nagaland | English | 0 | 9 | 0 | 2 | 10 | 21 |
| Meghalaya | English/ Garo/ Khasi | 0 | 13 | 1 | 3 | 14 | 31 |
| Tripura | Bengali/ Kokborok | 3 | 6 | 0 | 2 | 11 | 22 |
| Assam | Assamese/ Bengali/ Bodo | 8 | 14 | 32 | 12 | 55 | 121 |
| Mizoram | Mizo | 0 | 7 | 0 | 1 | 9 | 17 |
| Manipur | Manipuri, English | 0 | 6 | 2 | 2 | 10 | 20 |
| Telangana | Telugu/ Urdu | 20 | 8 | 33 | 12 | 52 | 125 |
| Rajasthan | Hindi | 157 | 120 | 185 | 92 | 371 | 925 |
| West Bengal | Bengali/ Nepali | 75 | 16 | 72 | 32 | 133 | 328 |
| UT Andaman & Nicobar Islands | Hindi/ English | 0 | 0 | 2 | 0 | 6 | 8 |
| Sikkim | Nepali/ English | 0 | 2 | 2 | 1 | 5 | 10 |
| Uttar Pradesh | Hindi/ Urdu | 86 | 3 | 110 | 40 | 173 | 412 |
| Maharashtra | Marathi | 46 | 41 | 125 | 46 | 208 | 466 |
| Goa | Konkani | 0 | 3 | 4 | 2 | 17 | 26 |
| Uttarakhand | Hindi | 22 | 3 | 16 | 12 | 72 | 125 |
| Bihar | Hindi/ Urdu | 8 | 0 | 13 | 5 | 24 | 50 |
| Jharkhand | Hindi/ Santhali | 3 | 7 | 3 | 2 | 12 | 27 |
| Kerala | Malayalam | 42 | 4 | 114 | 42 | 222 | 424 |
| Total | | 989 | 514 | 1389 | 603 | 2665 | 6160 |