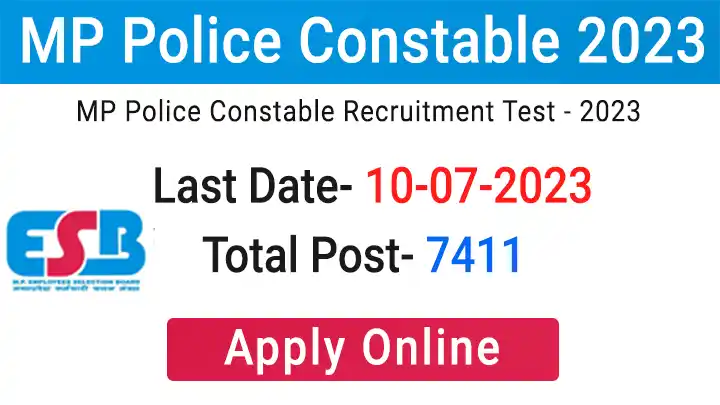 MP Employees Selection Board
Important Dates
Application Start Date: 26-06-2023
Application Last Date: 10-07-2023
Form Editing Last Date: 15-07-2023
Examination Start Date: 12-08-2023
Application Fee
Unreserved Candidates : Rs.500/-
SC/ ST/ OBC/ EWS Candidates : Rs.250/-
Pay fee through online.
Age Limitation
Age as on: 10.07.2022
Minimum Age: 18 Years
Maximum Age: 36 Years
(For Age Relaxation See Notification.)
Eligibility Criteria For MP Police Constable 2023
Constable (GD)
Passed 10th class examination or Higher Secondary or equivalent examination under 10+2 system.
For ST Only:- Passed 8th class or equivalent examination.
Constable (Radio – Operator)
Passed Higher Secondary Certificate Examination (10+2) System (12th) from a recognized Board/Institution. Apart from this, passed 2 years course in Electronics / Electricals and Hardware, Computer Hardware (not Computer Application), Telecommunication, Instrument Mechanic or Information-Technology Engineering from any Polytechnic / Institute / College / University / ITI recognized by the Government.
Note : A separate technical examination will be conducted for these posts in the first phase itself, which will be in addition to the first phase written examination.
MP Police Constable Vacancy 2023 Details
| Constable (GD) | UR | OBC | SC | ST | EWS | Total |
| --- | --- | --- | --- | --- | --- | --- |
| Open | 1040 | 1040 | 616 | 771 | 384 | 3851 |
| Ex Serv (10%) | 192 | 191 | 113 | 142 | 71 | 709 |
| HG (15%) | 287 | 287 | 170 | 212 | 107 | 1063 |
| Female (33%) | 396 | 396 | 235 | 293 | 147 | 1467 |
| Grand Total | 1915 | 1914 | 1134 | 1418 | 709 | 7090 |
For Constable (GD – Radio Operator)
| Constable (Radio – Operator) | UR | OBC | SC | ST | EWS | Total |
| --- | --- | --- | --- | --- | --- | --- |
| Open | 49 | 49 | 29 | 37 | 18 | 182 |
| Ex Serv (10%) | 09 | 09 | 05 | 06 | 03 | 32 |
| HG (15%) | 29 | 29 | 17 | 21 | 11 | 107 |
| Female (33%) | 29 | 29 | 17 | 21 | 11 | 107 |
| Grand Total | 87 | 87 | 51 | 64 | 32 | 321 |
MPESB Constable Physical Measurement 2023
For Special Armed Forced Only
| Category | Height | Chest |
| --- | --- | --- |
| General and OBC (Male) | 168 cm | 79-84 cm |
| Gorkha, Garhwali & Kumao (Male) | 157 cm | 79-84 cm |
| Maratha, SC & ST (Male) | 165 cm | 79-84 cm |
For All Other Cadres Except Special Armed Forced
| Category | Height | Chest |
| --- | --- | --- |
| UR, SC, OBC (Male) | 168 cm | 81-86 cm |
| UR, SC, OBC (Female) | 155 cm | X |
| ST (Male) | 160 cm | 76-81 cm |
| ST (Female) | 155 cm | X |
MPESB Constable Physical Endurance Test 2023
Post Name
Test
Details
Constable (GD) Male
800 Meter Race
0 Marks for more than 198.3 seconds
Long Jump
0 Marks less for than 2.96 meter (3 Chance)
Gola Fek (7.26 Kg)
0 Marks for less than 3.83 meter (3 Chance)
Constable (GD) Female
800 Meter Race
0 Marks for more than 261.8 seconds
Long Jump
0 Marks for less than 2.04 meter (3 Chance)
Gola Fek (7.26 Kg)
0 Marks less for than 2.85 meter (3 Chance)
Constable (Radio) Male
800 Meter Race
0 Marks for more than 224.5 seconds
Long Jump
0 Marks less for than 2.23 meter (3 Chance)
Gola Fek (7.26 Kg)
0 Marks for less than 3.51 meter (3 Chance)
Constable (Radio) Female
800 Meter Race
0 Marks for more than 305.8 seconds
Long Jump
0 Marks less for than 1.50 meter (3 Chance)
Gola Fek (7.26 Kg)
0 Marks for less than 2.70 meter (3 Chance)
(For Marks Wise PET Details Must See The Official Officiation)