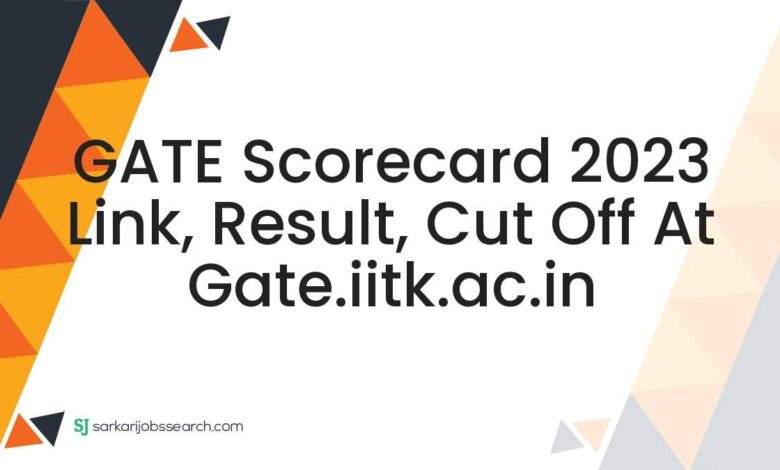 News:- GATE 2023 Scorecard will be available on 21st March 2023 after 5:00 PM in candidate appilication portal
News Date:- 21 March 2023
Graduate Aptitude Test in Engineering 2023
GATE 2023 Result Summary
| | |
| --- | --- |
| Exam Body | Indian Institute of Technology Kanpur |
| Test Name | Graduate Aptitude Test in Engineering (GATE) |
| Test Year | 2023 |
| Application Starting Date | 30th August 2022 |
| Application Closing Date | 30th September 2022 |
| GATE 2023 Admit Card Released Date | 09th January 2023 |
| Exam Dates | 4th, 5th, 11th & 12th February, 2023 |
| GATE 2023 Result Declare Date | 16th March 2023 |
| GATE 2023 Scorecard Release Date | 21st March 2023 |
| GATE 2023 Result Download Link | gate.iitk.ac.in |
| Helpline Number | 0512 259 6962   |   0512 259 6963 |
| Download Admit Card | GATE 2023 Admit Card |
GATE Score 2023
After the evaluation of the answers, the actual (raw) marks obtained by a candidate will be considered for computing the GATE Score. For multi-session papers (subjects), raw marks obtained by the candidates in different sessions will be converted to Normalized marks for that particular subject. Thus, raw marks (for single session papers) or normalized marks (for multi-session papers) will be used for computing the GATE Score, based on the qualifying marks.
GATE 2023 Results
GATE 2023 results will be announced on 16 th March 2023 and will be available on the GATE 2023 Website. GATE 2023 score is valid for THREE YEARS from the date of announcement of the results. No information on the GATE 2023 score will be available after this period.
GATE 2023 Scorecard
After the declaration of results, GATE 2023 Scorecards of the qualified candidates can be downloaded free of cost between 21st March 2023 to 31st May 2023 from the GATE 2023 website. It is highly recommended that a softcopy of the scorecard is safely stored by the candidate for all the future uses.
In case, GATE qualified candidates require the softcopy of their GATE Scorecard after 31st May 2023 and till 31st December 2023, they MUST pay a fee of Rs.500 (Rupees five hundred only) per paper for obtaining the same. From 1st January 2024 onwards, NO scorecard will be issued for GATE 2023 qualified candidates.
How To Download GATE 2023 Result
There are following simple steps for downloading of online result of Graduate Aptitude Test in Engineering 2023 as under described:
At first open IIT Kanpur GATE official website gate.iitk.ac.in in your computer or phone browser.
Navigate to middle of the web page, click on a big Login button.
You will be redirected to Login page of GATE 2023.
In the login page enter your Enrolment ID / Email Address and Password in the specified field correctly.
Next, evaluate the arithmetic expression (as shown in image) and place the value below in the input box.
Finally click on Submit button to download your result or scorecard.