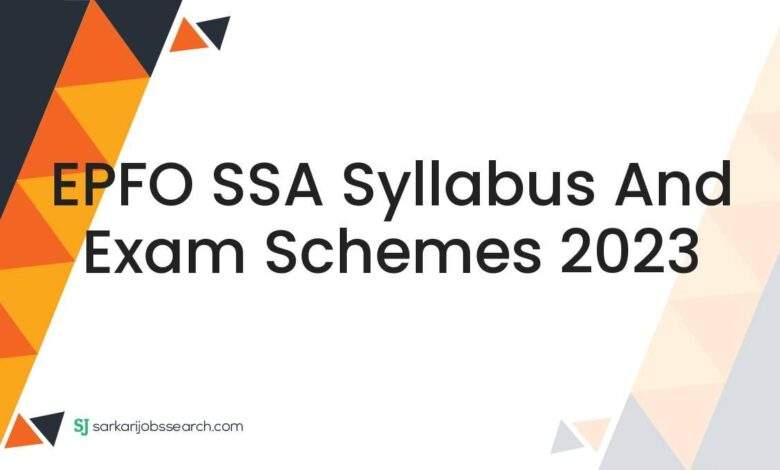 EPFO SSA Syllabus And Exam Schemes 2023
Scheme of Examination for the post of Social Security Assistant (SSA) is as under :-
Phase I- Examination
Sr. No.
Name of the Test
No. of Qs.
Max. Marks
Duration
1
General Aptitude
30
120
2 Hours and 30 minutes (150 Minutes)
2
General Knowledge/ General Awareness
30
120
3
Quantitative Ability
30
120
4
General English with *Comprehension
50
200
5
Computer Literacy
10
40
Total
150
600
Note:-
Each question shall have 4 marks each.
Each question shall have 4 marks each.
For each wrong answer, there will be a negative marking of one fourth of the mark assigned to that question.
*English comprehension shall be objective.
The candidates will be shortlisted for Phase-II in the ratio of 1:10 i.e. about 10 times the number of vacancies in each category on the basis of their performance in Phase-I.
Phase II- Computer Skill Test (Computer Data Entry Test)
Candidates will be required to appear for the Skill Test to assess speed and accuracy for Data Entry Work. A typing speed of 35 words per minute in English or 30 words per minute in Hindi on computer. (35 words per minute and 30 words per minute correspond to 10500 Key Depression Per Hour (KDPH) / 9000 KDPH on an average of 5 key depressions for each word for Data Entry Work. Candidates short-listed for Skill Test will have to appear for a Skill Test.
Note : Computer Skill Test will be qualifying in nature. Marks obtained will not be reckoned for merit ranking.